The Bitrix24 mobile app works as a mobile intranet, mobile CRM and mobile per­son­al infor­ma­tion sys­tem. Once the Bitrix24 mobile app has been installed on a smart­phone or tablet, it can be used regard­less of loca­tion and time.
The only require­ment for use is an inter­net con­nec­tion. The mobile app is sup­port­ed by both iOS and Android devices. With the Bitrix24 mobile app, you use your Social Intranet when, where and from what­ev­er device you want.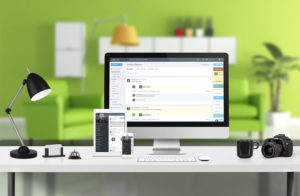 Employ­ees who reg­u­lar­ly work out­side the com­pa­ny premis­es will espe­cial­ly appre­ci­ate the Bitrix24 mobile app. Func­tions such as read­ing or com­ment­ing on mes­sages in the Activ­i­ty Stream and pub­lish­ing your own new posts can all be done on the go with your smart­phone or tablet.
Push noti­fi­ca­tions alert the employ­ee when he or she is need­ed. If the inter­net con­nec­tion isn't too good, you can still work effec­tive­ly as the mobile app can also be used in offline mode.
MOBILE TASKS AND DOCUMENTS
.
With this tool, col­lab­o­ra­tive work on a doc­u­ment or task can start in just a few steps. Doc­u­ments and pic­tures can eas­i­ly be shared with one anoth­er.
If you are cur­rent­ly com­mu­ni­cat­ing with a sin­gle col­league, you can add addi­tion­al par­tic­i­pants when­ev­er you need them — so there's noth­ing stand­ing in the way of com­pre­hen­sive, trans­par­ent com­mu­ni­ca­tion.
REAL TIME COMMUNICATIONS
.
Com­mu­ni­cate with your col­leagues wher­ev­er you are. A push noti­fi­ca­tion will dis­play mes­sages on your com­mu­ni­ca­tion partner's mobile device — even if the app is closed.
All rel­e­vant employ­ee infor­ma­tion can be retrieved at any time by using the employ­ee direc­to­ry.
Using the app, the CRM can be con­ve­nient­ly accessed remote­ly. Depend­ing on the assigned role, the cus­tomer data­base or the prod­uct cat­a­logue can also be accessed. Cur­rent CRM activ­i­ties are also dis­played.
A con­tact, lead, order or invoice can be, for exam­ple, cre­at­ed, edit­ed and sent direct­ly from an appoint­ment with the cus­tomer.
Using pre­de­fined work­flows such as busi­ness trav­el, hol­i­days, absences or pur­chase requests, employ­ees can apply for hol­i­days or busi­ness trip and place orders direct­ly in the Activ­i­ty Stream. All adjust­ments made to the work­flows will be con­tin­u­ous­ly dis­played in the Activ­i­ty Stream.
WE ARE HAPPY TO ADVISE YOU
.